On November 28th, Shipping Exchange Forum Shanghai 2013, which was carefully orchestrated by Shanghai Shipping Exchange, was held successfully in Shanghai. The theme of the forum is "Shipping Top-Level Design",over 500 people from government departments, shipping enterprises, finance institutes and industry associations attended the forum and more than 50 medias reported the event.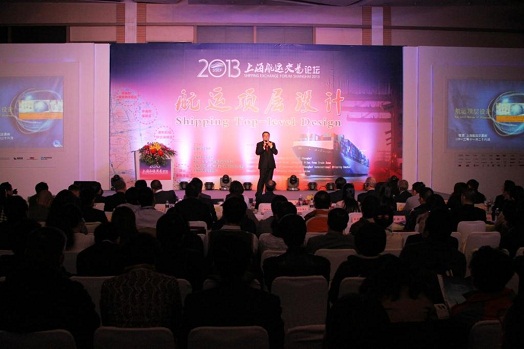 The leaders from the Ministry of Transportation, Shanghai Municipal Government, the Danish Maritime Bureau and so on gave speeches respectively. Zhang Ye, President of SSE, observed that at present, facing the crisis of global shipping, the top-level innovative design is essential. He suggested that shipping industry should be designed by eliminating of trade barriers, promoting investment facilitation, developing financial potential and improving the service level.
  Song Dexing, Director General of Water Transport Bureau of Ministry of Transport, stated:"the impetus of shipping development is based on market, but the effect of government's regulation is essential too. The Ministry of Transport is impelling the shipping development unto a strategy of the nation. The scheme has been submitted to the State Council."
  Lars Mikael Jensen, Senior Executive of Maersk Line, said that to cater for the growing requirement of their clients, shipping companies are facing a dilemma of operating independently or unitedly. He supposed that according to the economies of scale, the latter undeniably means larger vessels, lower costs,wider coverage, higher frequencies and more flexibility of deployment.
  (Source: SSE)