Among the 2013 Lloyd's List Top 100 People in Shipping freshly published by the media, Zhang Ye, president Shanghai Shipping Exchange, is ranked at the place of 85th, which has been the fourth time for him to be honored with the glory on and on.
  The following is the screenshot and word introduction: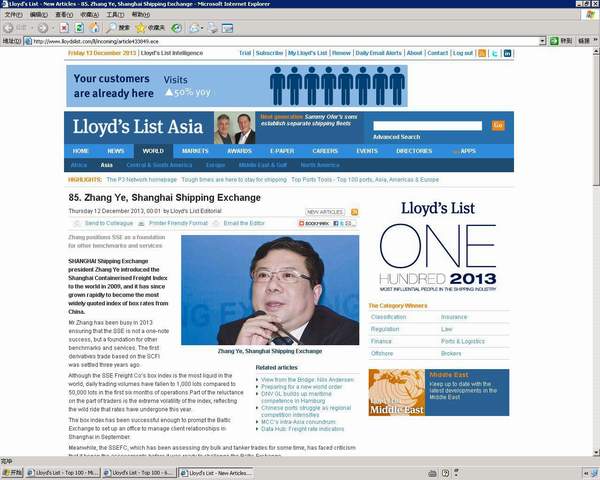 SHANGHAI Shipping Exchange president Zhang Ye introduced the Shanghai Containerised Freight Index to the world in 2009, and it has since grown rapidly to become the most widely quoted index of box rates from China.
  Mr Zhang has been busy in 2013 ensuring that the SSE is not a one-note success, but a foundation for other benchmarks and services. The first derivatives trade based on the SCFI was settled three years ago.
  Although the SSE Freight Co's box index is the most liquid in the world, daily trading volumes have fallen to 1,000 lots compared to 50,000 lots in the first six months of operations.Part of the reluctance on the part of traders is the extreme volatility of the index, reflecting the wild ride that rates have undergone this year.
  The box index has been successful enough to prompt the Baltic Exchange to set up an office to manage client relationships in Shanghai in September.
  Meanwhile, the SSEFC, which has been assessing dry bulk and tanker trades for some time, has faced criticism that it began the assessments before it was ready to challenge the Baltic Exchange.
  The SSEFC's contract for trading Chinese coastal coal cargoes from Qinhuangdao began trading in October, with 45,000 lots of derivatives settled on its first day. It will take some time to determine whether the monthly contracts are a success.
  Unlike other products traded on the Baltic Exchange or the SSE, the coastal trade contracts are traded in yuan and targeted at physical traders and end-users, rather than banks and speculators, as participants need to carry out shipping services when their contracts are settled.
  These days, the voluble Mr Zhang is definitely on the expansion path. In February, he said he planned to set up a dollar-trading contract in Hong Kong for box derivatives. However, the announcement of the Shanghai Free Trade Zone has caused him to set his sights on his home town instead.
  Mr Zhang, a delegate of the Shanghai Municipal People's Congress in addition to his SSE duties, has received a range of accolades, including those of Shanghai Municipal Leading Talent, Hongkou District Leading Talent and Top 10 Finance Leaders in Shanghai.
  He was named one of the the top 100 most influential people in shipping by Lloyd's List in 2010, 2011 and 2012.
(Source:Lloyd's List)