In the morning of May 3rd, the chairman of Cyprus Columbia Ship Management (CSM) Mr. Heinrich Schoeller, President Mr.Mark O'Neil and other top executives visited SSE, accompanied by Mr. Terrence Zhao, Chairman of Singhai Marine Services Ltd. and others. SSE President Zhang Ye and related business principals offered warm reception.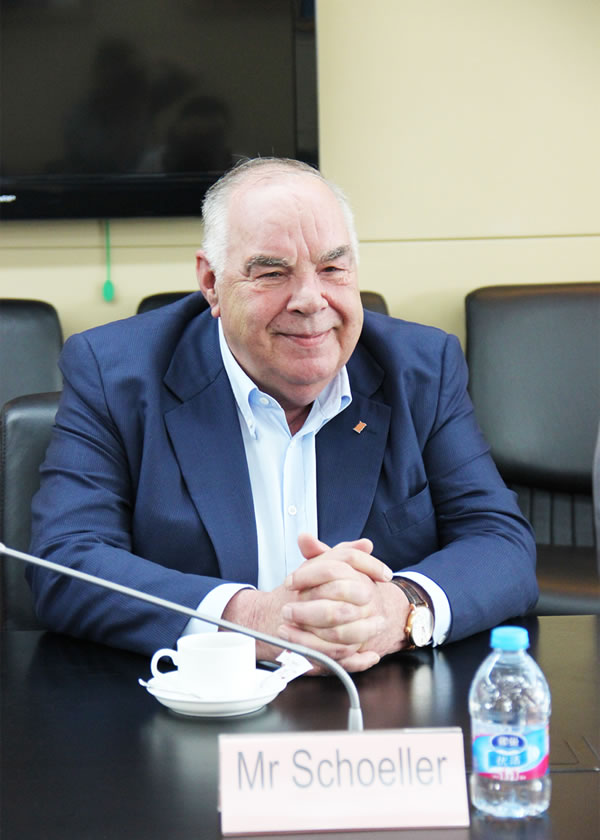 President Zhang Ye introduced the main functions and businesses of SSE, the outcome and planning of prompting the construction of Shanghai International Shipping Center. Both sides exchanged the ideas in terms of the future of shipping market, the existing opportunity and challenge and how to connect the Chinese owners with Cyprus and European counterparts in the fields of shipping management and finance. Also, President Zhang Ye explained to the delegation the shipping freight derivatives platform under SSE.
  This year, on February, President Zhang Ye visited the head office of CSM located in Limassol Port. So Mr. Schoeller and his colleagues paid a reciprocal visit to SSE this May, deepening the friendship and discussing the future possible cooperation.
  Founded in 1978, hold by the Schoeller Holding Ltd, CSM is one of the biggest, world-class private ship management companies, owning over 420 vessels. Its diversified and modern fleet trades throughout the world, contributing to the security operation, environment safety and high-quality client service. Schoeller Holding Ltd is a powerful private investment group in Cyprus, and its businesses cover maritime, aviation, restaurant, entertainment, domestic decoration, real estate, gardening and so on with over 14,000 employees all over the world.
  Singhai Marine Services Ltd is one of the most professional crew service companies in China and Asia. It is also the strategic cooperation partner of CSM. They established Shanghai Columbia Shipping Company, providing clients with optimal services.
  CSM and Singhai Marine Services Ltd are the co-sponsors of the second Capital Link Chinese Shipping Summit (Shanghai) in Shanghai on May 5th.